Moksha literally means- 'salvation' and we believe one can attain enlightenment through the wonders of music, literature and dance. Moksha is an Indian Arts Organisation based in the UK and aims to generate new ideas, new understanding and fresh creative forms through Bengali music, Indian classical music and dance.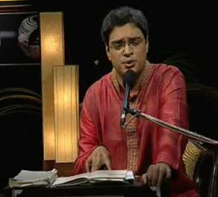 Rishi Banerjee, born and raised in Manchester UK, has been singing since the tender age of 3. His enthusiasm was enriched by his mother Ballari Banerjee and she taught him and gave him a firm foundation in Rabindrasangeet and Bengali music. At the age of 14, Rishi was taken under the wing of Shantiniketan exponent PRAMITA MALLICK who has guided him throughout as is his Guru and mentor.
Rishi has recently moved to London and has had the opportunity to learn Hindustani Classical Music and take voice training from CHIRANJIB CHAKRABORTY and Kolkata based Dhrupad vocalist Pandit Falguni Mitra.
In 2006, Rishi began his own arts group called MOKSHA which is a UK based organisation promoting Bengali Music, Indian Classical Music and Dance. It is a platform for many artists globally and has given highly acclaimed performances in UK and Europe.
Rishi has performed in numerous cities and prestigious venues across in UK, France, Croatia, Italy, USA, Bangladesh and India. His notable performances have been at the Royal Albert Hall, Nehru Centre London, Bharatiya Vidya Bhavan London, Imperial War Museum in Manchester, and the ICCR Rabindranath Tagore Centre in Kolkata. He also records for Kolkata's Tara Muzik on a regular basis and has featured as their special guest on their popular breakfast show AAJ SAKALER AMONTRONE twice. Rishi has performed alongside the likes of Pramita Mallick, daughter of late Habib Tanvir- Anna Tanvir, Sahana Bajpaie and Kathak legend Pandit Birju Maharaj. He has released two albums- Phire Chol Maatir Taane by P&M Records and the second 'Desh Bidesh'. His new album 'ETERNITY' is a collection of 10 songs from Gitanjali commemorating the centenary of Tagore's Nobel Prize award.
Rishi hopes to spread the inspiration he has gained from the diverse compositions of Rabindranath Tagore and many other composers from Bengal and India. His musical journey will provide a platform where we celebrate our past, embrace the present and look to the future—and along the way, connect together people of all generations.